Notarization is a formal process that deters fraud in signing important documents, including documents translated from one language to another.
But in the United States, notaries can't certify translated documents. In most instances, when important documents need to be authenticated, sensitive information might be passed around several locations.
Certified Translation Dallas is the ideal solution — a one-stop-shop for both certification and notarization. We will provide the most accurate possible translation of your documents and the translation will then be notarized.
Contact Us Today for Fast, Reliable Service
Our translators and notaries public are all on-site and make our 24-hour translation process the efficient, secure choice for document translations, certification, and notarization.
We Help You to Meet the Requirements for Document Notary Translation
Before a notary public can authenticate a document, certain requirements must be met: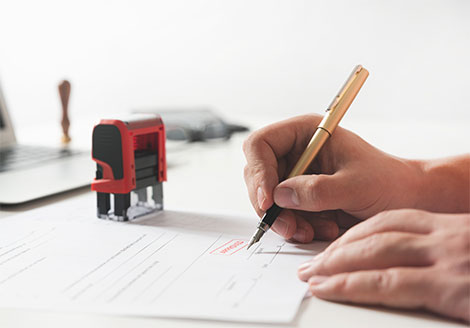 Signers must be willing to sign

The signer's signature must be original (no photocopies)

The signer must show an official identification with a photograph such as a driver's license, passport, or other government-issued ID

The signer must know the type of notarization they need
When different languages are involved, even the simplest of these requirements becomes a potential obstacle. Certified Translation Dallas will both notarize client documents and provide a live interpreter if necessary.
We Can Also Notarize a Variety of Other Documents
A notary public can authenticate a variety of documents. Some of the documents that Certified Notary Translation Dallas can notarize include:
Letters of support for Immigration
Affidavits
Power of attorney
Consent for minor children to travel
Wills/trusts/executorships

Court documents
Other documents
If you need notarized translation services, Certified Notary Translation Dallas is here to help. Our translators are fluent in most languages and can have your documents translated in 24 hours or less. Simplify the translation process today with our team. Contact us today to get started.
Professional and cordial staff
My translation of my documents was fast, accurate and professional. They really went out of their way to accommodate me. Highly recommend.
Extremely satisfied!
Their service was so quick and professional. My document was translated, certified and sent back to me in less than 3 hours wow. Extremely satisfied and highly recommended. Thanks Robert!
Quick and reliable service
Certified Translation Dallas is a quick and reliable service that gets the job done. Their work is professional and well suited for your needs. The staff is amicable and attentive.
Excellent and Friendly service.
I needed a translation for my visa extension applying documents and, once I made a price quote with another person, it costed more and would take one month to be ready. Certified Translation Dallas was way cheaper and faster then the other one. They sent me my documents in about 12-16 hours from the moment I approved the price quote. I totally recommend them.